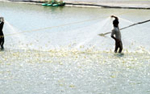 Coastal Aquaculture Authority
The Coastal Aquaculture authority (CAA) was established under the Coastal Aquaculture Authority Act, 2005 and notified vide Gazette Notification dated 22nd December, 2005. The main objective of the Authority is to regulate coastal aquaculture activities in coastal areas in order to endure sustainable development without causing damage to the coastal environment. The Authority is empowered to make regulations for the construction and operation of aquaculture farms in coastal areas, inspection of farms to ascertain their environmental impact, registration of aquaculture farms, fixing standards for inputs and effluents, removal or demolition of coastal aquaculture farms, which cause pollution etc.
Activities and Achievements of the Authority
One of the major tasks accomplished by the CAA was the registration of shrimp farms on the recommendations of the State and District Level Committees constituted for this purpose. Besides clearing the applications for registration, the Authority discussed many vital issues such as norms for registration of hatcheries, antibiotic residues in shrimp, standards for probiotics and feed, High Tide Line (HTL) and Inter Tidal areas, Environment Impact Assessment, stocking density etc. As per the guidelines notified by the Ministry of Agriculture and Farmers Welfare, Government of India, the team constituted by CAA inspected 50 hatcheries and the committee constituted by the Ministry permitted 24 hatcheries to import SPF L.vannamei broodstock as well as for seed production and sale of post larvae to the registered farms.
During the year, CAA has considered and approved 4,630 applications recommended by the DLCs/SLCs for registration and issued Registration Certificates. Have been issued to coastal aqua farms since inception of CAA. Total area of the 4,630 farms registered with CAA during 2009 for farming is 8773.06 ha.
83 farms with water spread area (WSA) of 794.51 ha. Have been inspected by the Inspection Committee constituted by the CAA and based on bio-security, ETS and other stipulated conditions, 28 farms with WSA of 49.17 ha. Have been permitted to undertake SPF L.vannamei culture in the States of Gujarat, Andhra Pradesh and Tamil Nadu.
A total of 155 hatcheries have been provisionally registered by MPEDA for tiger shrimp seed production as per CAA Act, 2005.